Home decor is usually a continuous process. It is usually a moment to critically consider the styles and colors that each room is decorated with, for they represent yourself. Many begin by thinking about the mood they wish to create. Others search stores and the pages of magazines to discover the styles of furniture and accent pieces that best suit their tastes. As with fashion, once you have acquired a sense of your home decor style, it is time to flaunt it. For the homeowner who seeks to stand out from the crowd and design an interior space that reflects his or her individuality, incorporating statement furniture is key.
Console composed by metallic spheres and semi spheres joined together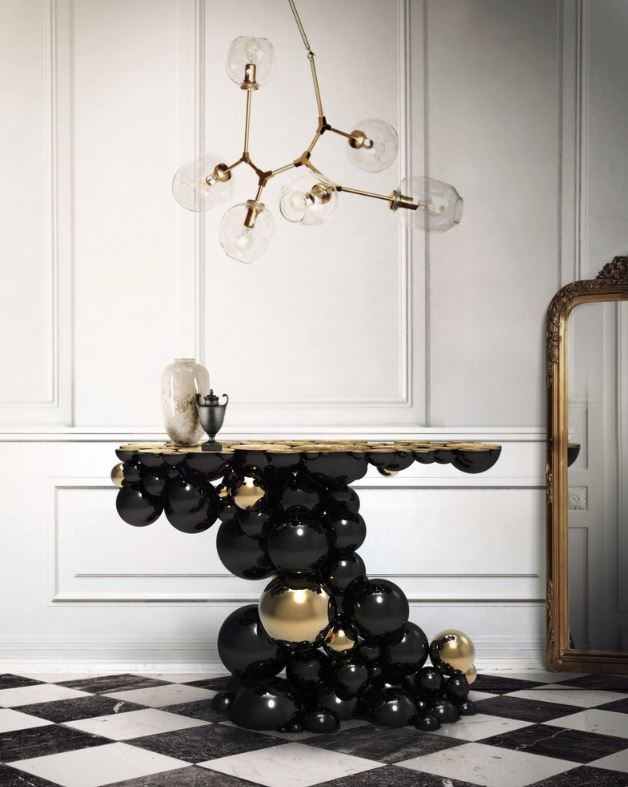 Newton Console by Bocadolobo
A series of 7, 8 or 14 pieces, finished in polished brass, and a special textured surface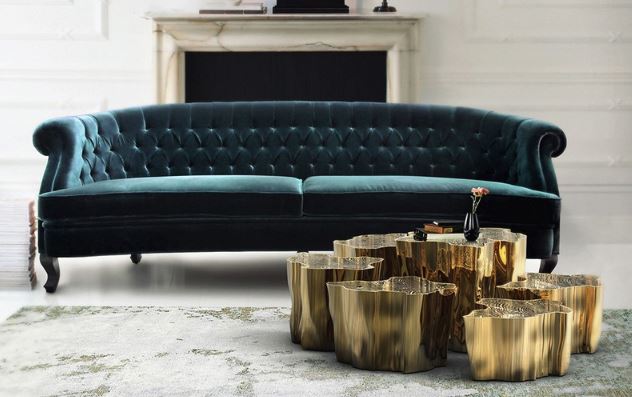 Eden Series Centre Table by Bocadolobo
Statement pieces are bold and unique and, as the name implies, make a statement about the owner's personal style. "Statement pieces add character and vibrancy to a home. Hand-painted furniture with artistic scenes or patterns, bold colors or hand-carved details can truly reflect a person's original style and remake your room into a cozy place. A well-chosen piece of statement furniture is often termed a "conversation piece." It is the piece of furniture that turns guests' heads and gets them talking. Guests might inquire if your weathered dining table is a family heirloom, or ask how you discovered such a one-of-a-kind credenza.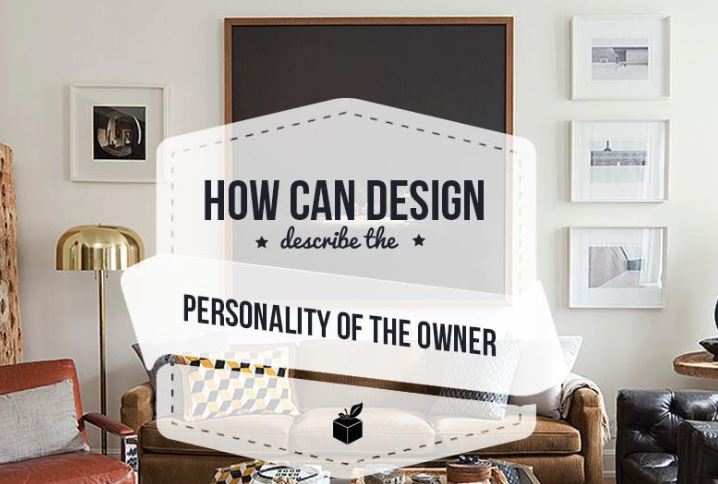 To choose the perfect statement pieces for your for every room consider not only your style but also your interests. An outdoors lover who seeks to replicate the feeling of nature in her bedroom might choose a whimsical headboard with carved birds, or a chest displaying motifs of painted flowers and vines. A collector might place a distressed shadowbox coffee table in his living room to showcase old family photographs and vintage keepsakes or display an impressive cabinet to highlight books and decor.
An example of a totally out there living room statement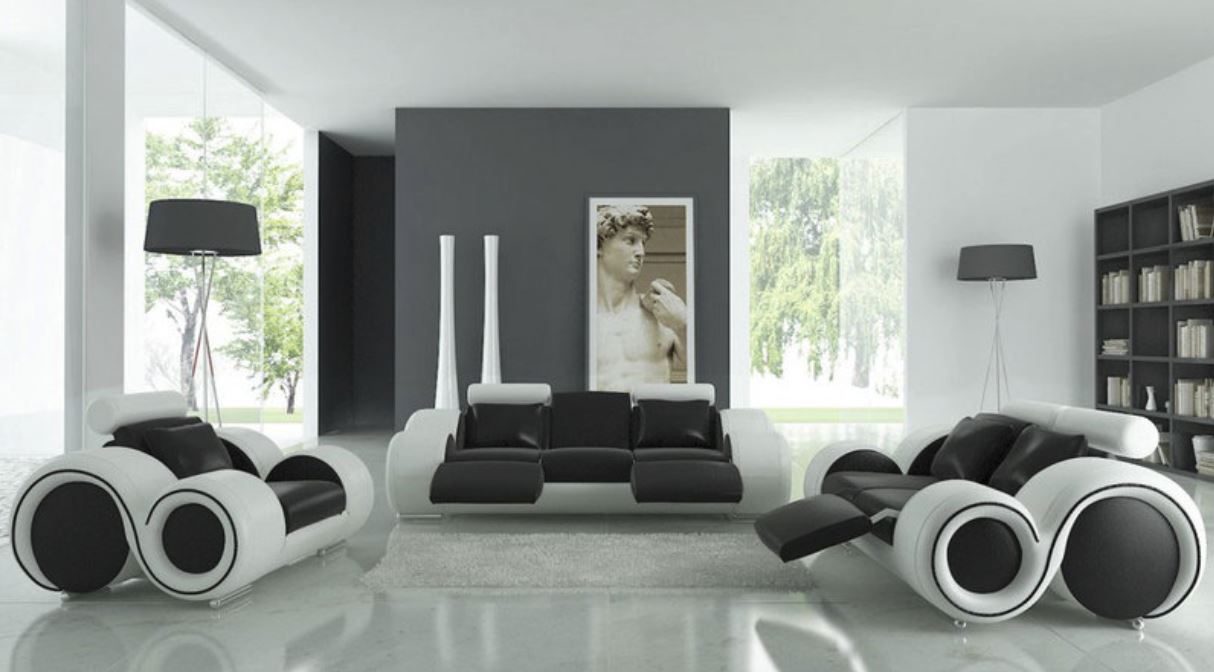 Not sure of the original creator but sourced the image at Steve Williams Kitchens
Another way to choose statement furniture is first to discover a piece that you admire and let it define your style. The statement piece can then inspire how you decorate the remainder of the room or even your entire home. An old friend of mine from my college days "Claire Davies" from Claire Davies Interiors LTD has always had a love for French furniture and she is right that any brightly painted French country furniture will create a warm and welcoming atmosphere in your dining room. To finish off the look, add a hand-painted painted table with paisley artwork and hand-carved wooden chairs. Then, add French country pieces of equipment to the kitchen with rooster décor or artwork. A statement piece can also stand alone. A tall chest that has been painted with inspirational words and phrases will make an original statement. Let it stand in a hall or entryway to spark intrigue from passersby.
An antique style French country hutch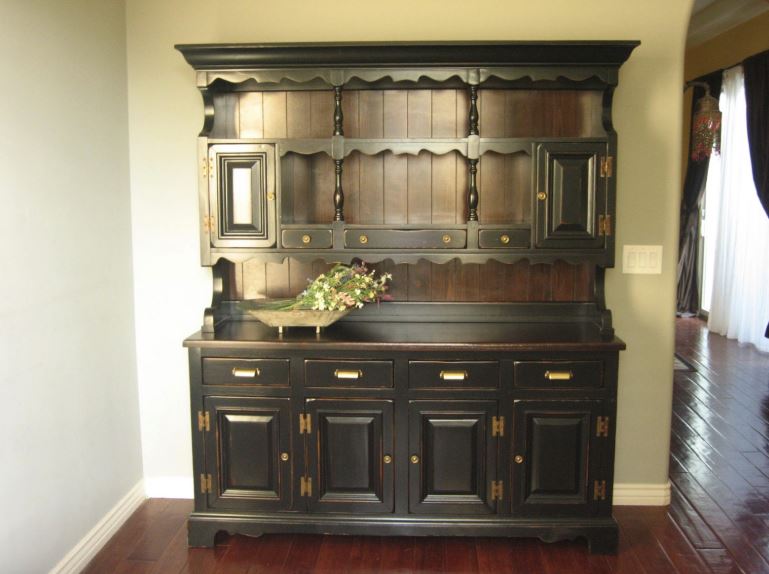 Sourced from American Commissars
When looking for statement pieces for your home, it is important to search in the right places. Furniture boutiques are more likely to carry items that have been carved by hand and painted with original artwork. For a truly individualized look, find a store that offers customization.  Art Syndicate boutique offers custom finishes on statement furniture to help homeowners achieve a look that is truly one-of-a-kind. Remember that decorating your premises is an opportunity to express your personality and discover even more about your style. Enjoy finding the statement pieces that will make your home uniquely yours.