More and more, people are deciding to pave the way and pave their driveway or patio. With the multitude of choices available, it can become confusing on knowing your Herringbone from your Basket Weave. But before we jump in and take you through the many paving patterns and designs you are possibly wondering ''why should I pave my driveway or patio?'' Well, making the decision to pave your driveway or patio allows you to make a statement and show off your personality without even entering the home!
Herringbone Paving 45° & 90°
This choice of paving is very popular thanks to its classic style and timeless appearance. The Herringbone paving pattern is an ideal choice for those wanting a traditional style to their driveway. The ''V'' shape that is created locks the paving bricks into a solid formation, making it a great option for those whose driveway is a place of not only high vehicle use such as parking but also footfall. This design has remained popular thanks to its lasting durability and customisation. You can have contrasting colours from row to row or brick to brick! Truly making a real statement outside your home.
Stretcher Bond Paving
This versatile and stylish option is a visually striking design that can not only be used for driveways and patios but also pathways! This style of paving is relatively easy to apply as each stone is placed shoulder to shoulder in a continuous and even pattern. This design can be great for those looking to jazz up their walkways leading to and from their home. As the nature of this pattern looks at its best when bordering on curved areas such as lawns or gardens.
Bordered Herringbone
Similar to the Herringbone, the Bordered Herringbone style is a great way to really express your creative flair with contrasting colours and patterns. Combing a uniform border with the Herringbone pattern this choice of paving and patterns is a great choice for driveways and walkways. The properties of this paving design are that while stylish it is also incredibly durable and can take years and years of use and not show any sign of fatigue. Not only this but you are also given multiple options of choice when it comes to your border. We recommend asking your paving installer for the choices of edging they offer.
Stack Bond Paving
If you want a uniform style that gives a clean and precise appearance, you should consider the Stack Bond Paving. Like the Stretcher Bond Paving style, this type of paving design is easy to install and can be completed at a faster pace in comparison to the Herringbone pattern. This design is the best choice for those who are looking for a modern and contemporary appearance that is quick and easy to install.
Basketweave
Taking inspiration from the criss-cross pattern the appears on handwoven baskets. The Basketweave paving pattern is an eye-catching and attractive paving design. While it may appear to be complex this style is far from it as it is made from smaller blocks. That when combined in a criss-cross pattern and contrasting colours can really make your walkway or patio pop with colour! We recommend that this style of paving be used for patios or even walkways to really impress guests.
Detailing
Now just like how there are many types of paving there are many types of detailing here are a few.
Squares & Diamonds
This type of detailing is most commonly used on the Herringbone and Stretcher Bond paving styles. Utilising this type of detailing is a great way to add texture and to break up larger areas of paving. We advise that you go far with a dramatic contrast of colour for maximum impact.
Circular Features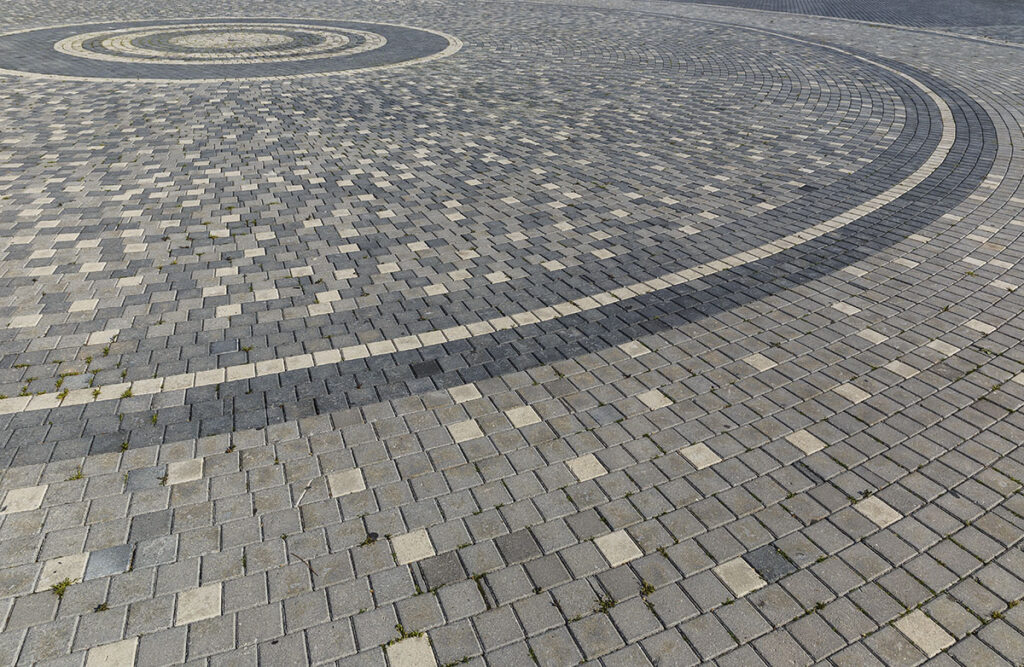 Installing a circular feature into your paving is a wonderful option if you either want to place something on top and really make it the focal point of your patio or driveway.
Conclusion
I hope you have enjoyed this article on just some of the many types of paving patterns and designs that can breathe new life into your outdoor spaces. While you are here why not read some of our other informative blog articles including How to clean an oil painting on canvas and How to clean a jute rug? and more FAQ's.