Many of us, whether we are longtime interior design veterans or we just like taking our decorative work into our own hand, have probably asked ourselves at least once if we could build a headboard for our very own bed.
And if you haven't asked yourself this, then why not?
I think it's an absolutely fabulous idea since you can tailor the headboard to your needs; creating the style yourself and adding any extra essentials such as storage or lighting fixtures to the DIY headboard in question.
Perhaps you've never bothered thinking about making a headboard because it seems like a lot of work to take on.
So many of us purchase our own instead,
Which I believe to be a very expensive mistake and one that can be avoided if you just plan correctly when creating your own simple headboard.
Unique Headboard Ideas
Since we are creating this homemade headboard ourselves, we're going to want some unique headboard ideas that can give us inspiration into creating a piece that features a one-off design, so that it is unique to us and us only.
The best place to look for these ideas is obviously the internet, through simple searches on Google or Pinterest.
However since I've already looked around for some ideas before writing this helpful article, here are a couple of interesting ones I'd like to share with you;
Pallet Headboards
Pallet anything seems to be a go-to for DIY projects, and this is also the case with a DIY headboard. 
A pallet headboard is something anyone can create since the materials needed are so easily sourced but in contrast, it can give a bold and unique look to your bedroom area – something that all DIY enthusiasts strive for in our own homes.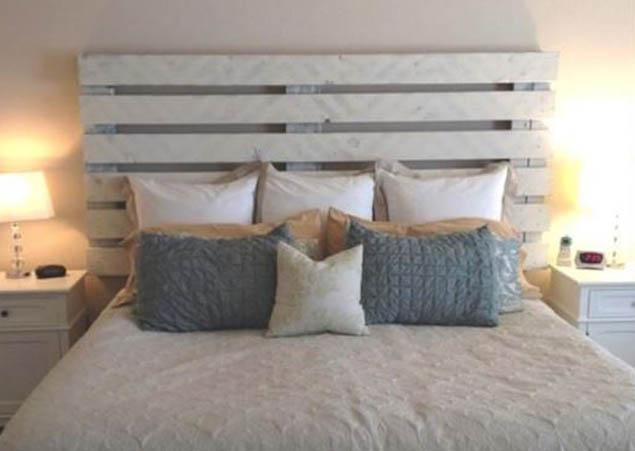 Decorative Headboards
Now, of course, anything you should create should be decorative, but what I'm suggesting is that it should be overly decorative. Something that really is striking and eye-catching, almost enabling itself to be the statement piece in your personal haven  – which isn't a bad idea once you consider the fact that your bed is usually bang smack in the middle of the room, so this type of integration would make sense.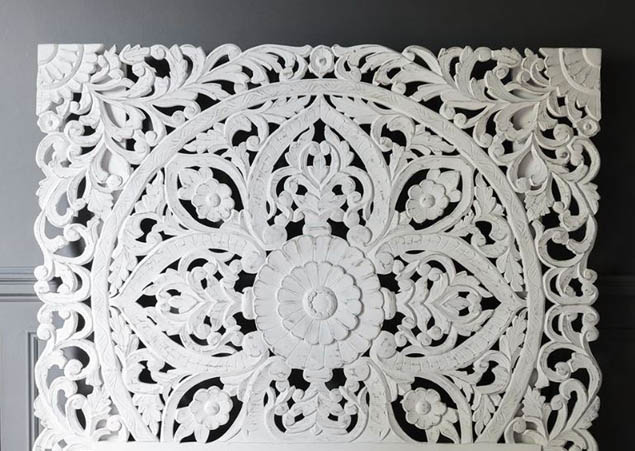 Distressed Wood Headboard
Typically designing any sort of wood headboards will enable you to have a rustic wood look, so it would make sense to go all the way, especially if you already feature this sort of style in and around your home.
This typical style of DIY headboard is pretty easy to achieve, all it takes is a little elbow grease to give off an aged feel and this is one of the most easy DIY headboard designs you could possibly achieve – without sacrificing beauty.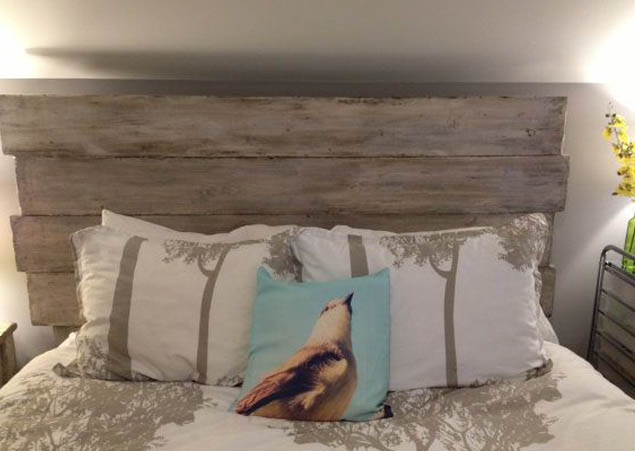 Headboards with Shelves
Now if you're looking for an easy do it yourself headboards, this is not the style for you.
Since you have to take into account what sort of style you're going to want on top of the fact that you need to know what you want to use the extra storage for, it takes a lot of careful planning and measuring before you build a headboard anyway and having something extra to think about may just cause you to much stress.
Although it is difficult to pull off, DIY headboards with shelves seem to be one of those unique and upcoming styles I only found out about recently, so if you manage to add it to your own bedroom you're more than certainly going to be the talk of the town.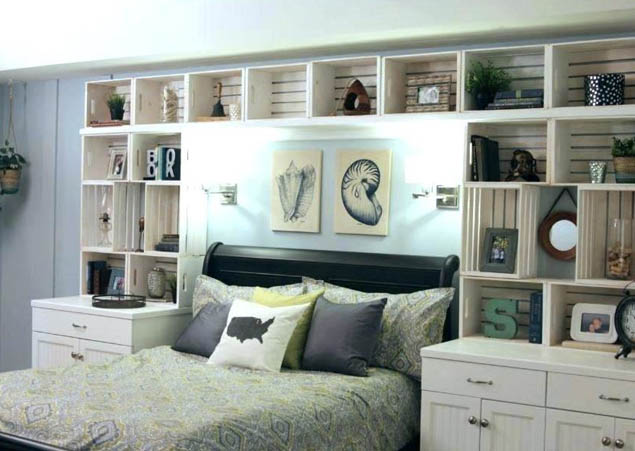 How to make a headboard
Making a DIY head board will be a different experience for everywhere, since there are so many unique angles you can take, not to mention that the beds themselves are going to be different in their size which will require you to have a different size of the headboard.
But, I'd still like to give you some guidance on how you should go about planning and creating your very own DIY bedroom headboard so that you can understand the design process a little more which will allow you to plan your latest DIY project.
First things first
Decide on both the style and design; what do I mean by this?
You're going to want to pick a design I spoke about earlier (or something else you've found through research of your own) and you're also going to want to take into account the style of headboard.
Whether that's a;
Free standing headboard

Wall mounted headboard

Headboard attached to a bed

Or any other style you're wanting to feature
After that…
You're going to want to make sure that what you've just picked will work for your type of bed, whether that's a shabby chic queen size headboard, king head board or any other size you're wanting to create.
A DIY King size headboard is probably going to be harder than a lot of other homemade wooden headboard simply because of its size, although there is no getting around this unless of course, you downgraded the size of your bed – which no one in their right mind would want to do.
Don't forget to measure everything
Great, you've got your design in mind, its style and you know roughly what sort of size you're wanting to create
Next, you're going to want to measure everything, the size you're wanting your headboard to be against where you're going to put it in your bedroom (hopefully at the head of your bed) ensuring that it will fit perfectly once created.
Measuring carefully a few times will help to eliminate any potential headaches further down the line due to miss measurements or things you may not have considered.
Ensure you have your materials and tools
It would be no use picking the design and style, measuring up and once you're about to create your wooden homemade headboard you realize you don't have your materials and tools required, so make sure you get these beforehand – get plenty of them too, there's nothing worse than starting a project and having to delay it for weeks whilst you supply more materials.
Finally, it's time to create
This process might take you a few days or a few weeks, depending on the style, design, and size of your do it yourself bed headboard but finally, it's time to start on your project.
This is where you're going to have to go off on your own, use your own DIY experience or someone else's to create your own work – since I can't give you a step by step guide because your designs will be completely unique to my own, you should use these guidelines as a way of brainstorming your own design process.
So, what are you waiting for?
Stop reading this article, go to plan your newest DIY king size headboards, rustic wood bed frame or a queen headboard wooden finish to replace your old and outdated one – helping to exaggerate your focal point in your bedroom and offer you something that is totally unique in comparison to what anyone else has in their home.