Complete Guide to Hosting a Barbecue Party
Hosting barbecue parties can be a ton of fun especially if you have a lot of friends and loved ones. If you've never tried hosting one before or if you just moved into a new neighbourhood and you want to leave a good impression, we just have the perfect bbq planning and hosting guide for you.
In this article, we covered everything from preparing your outdoor space to choosing the perfect BBQ food to serve. Read on and get ready to take down notes.
How to prepare the venue
The garden or backyard is the most ideal place to host a barbecue party. All you need is to place the grill in a nice shaded area and to prepare a dining set. If you're lucky enough to have an outdoor kitchen area, you can set up the dining area a few metres from there.
Aside from arranging the furnishings and cooking equipment, there are other tasks that require your immediate attention.
Make sure the place is squeaky clean
Outdoor spaces such as garden and backyards are often littered with dried leaves and twigs. Using a broom, remove all the unnecessary items lying about.
If your garden has concrete pavers, you need to ensure that they're grime-free when your guests arrive. Use hot water and your favourite cleaning solution to dissolve deep-seated stains on the concrete. If you have a pressurized hose spray, you may use that to rinse the area.
Tidy up your furnishings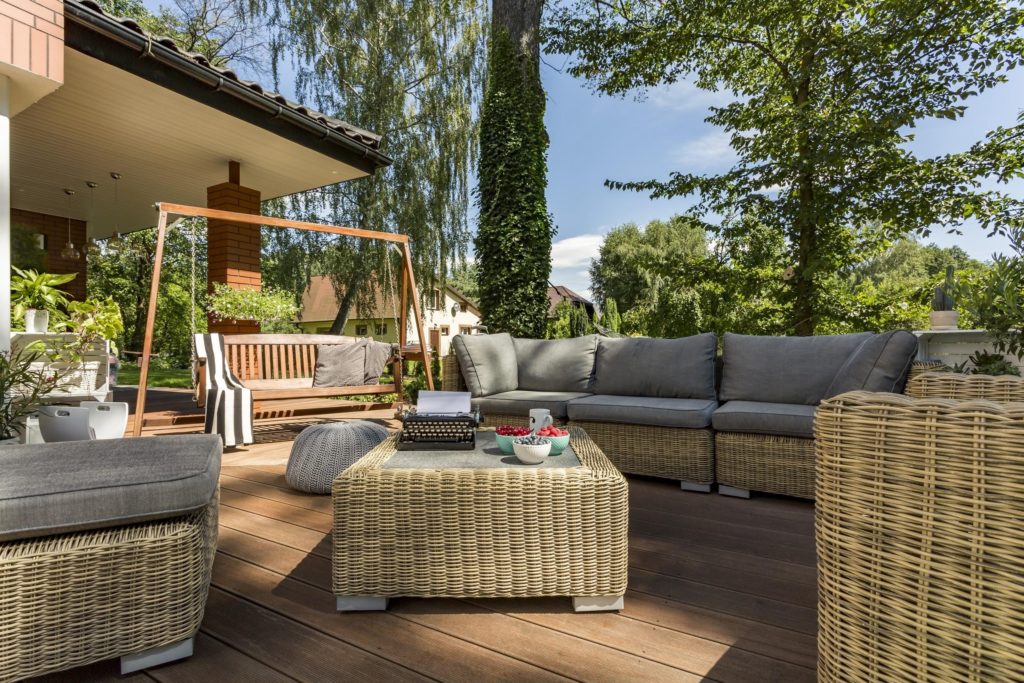 A grimy chair or table is a huge deal breaker for guests. Better wash and brush your outdoor furnishings at least a few days before the event.
If you're using a piece of wicker furniture, use the right rattan cleaners and tools to prevent damage and quick wear and tear. If you use metal furniture, wipe them dry after you scrub them clean with a sponge.
Trim the lawn grass
While using the lawn mower saves you time and effort, it doesn't really get the job done perfectly. There may be rough patches that require manual work. To simplify the job, we recommend using a mowing strip.
You should also use the right tools such as edgers for the lawn edges and trimmers for the tight and hard to reach spaces.
Say yes to lighting fixtures!
Adding a few lighting fixtures can definitely upgrade a quaint outdoor space. If you plan to extend your barbecue party until late evening, it's best that you invest in new lighting fixtures for your backyard or garden. A few examples of popularly used fixtures include:
Lamp posts – They come in various shapes and sizes. You may even find ones that come with customised metal brackets. You can install these right next to your gazebo or pergola.
Spotlight – Got large trees in your area? Installing spotlights on each tree can help you easily illuminate a large space.
Path lights – Increase the curb appeal of your garden or backyard path by installing the right colour and size of path lights.
Deck lights – If your deck has numerous steps, consider installing deck lights to help your guests find their way easily even during the late evening.
Pendant lights – Hang these beautiful and intricately made lights on the ceiling of your gazebo. These can instantly create a romantic vibe in a covered area.
Pixie lights – What better way to light up your yard than installing hundreds of pixie lights. These are cheap alternatives in case you don't want to invest in long-term lighting options like those mentioned above.
Time to scrub the BBQ grill
Before you attempt to cook food on the BBQ grill, you have to make sure that it's completely free from grease, carbon build-up and gunk. Follow the straightforward cleaning procedure below:
Carefully detach the grates and grill from the cooking equipment and soak everything in hot water and liquid detergent.
While waiting for the gunk, carbon and grease so soften, you may begin cleaning the areas on the side of BBQ equipment.
Scrub away the stains and carbon buildup and wipe them dry with a piece of paper towel.
After cleaning the walls, side and underside of the cooking equipment, you can start cleaning the grates and grill. Feel free to use a hose to rinse everything.
Dry the grates and grills before you re-install them.
If your BBQ grill comes with a cabinet, make sure that it's free from junk and grease.
Consider the weather
You never what weather to expect each day, so it's best if you have a nice roofed structure where you can accommodate your guests in case it gets too hot or if suddenly rains. To make the most out of your money, we suggest using durable and long-term structures such as gazebos or pergolas.
If you're on a limited budget, you can install a large cantilever umbrella. If you're expecting more guests and you only need protection from the sun, you can install awnings, tarps or fabric canopies.
Add a fire pit
Fire pits, bowls & wood stoves are quite in demand these especially among homeowners who love hosting outdoor parties. You can simply head to your favourite shop and purchase a fancy fire bowl or unleash your DIY fandom by creating a fire pit in your backyard which will make a great statement piece.
Adding modular lawn furniture for your guests is recommended. Don't forget to offer knitted throws so they can stay warm and cosy while they gather by the pit or bowl.
Planning the party
After making the necessary venue preparations, your next priority is to plan the details of the barbecue party. Below are the major tasks you need to attend to:
Choosing what to cook
BBQ parties are pretty straightforward. You can choose from a wide range of popular grill food items including burgers, steak, BBQ sandwiches, and sausages. But, if you want to host a kickass BBQ, here are some food items you should include in your menu:
Grilled pizza with ricotta cheese and asparagus
Chicken kebabs with sweet pepper, lemon and asparagus
Grilled clams seasoned with homemade paprika butter
Special lamb meatballs with green salsa
Grilled garlic-butter oysters
Grilled artichoke with herbed butter
Vegetable quesadillas with pesto
Thai Curry Beef
Beer marinated skirt steak
Kalua pork shoulders
Grilled stuffed squid
Grilled cheesy lasagna
BBQ Ribeye steak with creamy mashed potato
Don't forget to consider guests who are vegetarian or vegan or those who bring along their kids with them.
Also, do make sure to serve side dishes and drinks that complement the main course.
Picking the date
When you select a date for the BBQ party, do consider the availability of your guests. Try scheduling the party on a Friday night or on Saturday afternoons. Once you have a final date, send your invites to your target guests. It's best to inform them early on so they can adjust their schedule for your party.
Determining the final headcount
The last part of the preparation involves finalizing the number of attendees. This will help you prepare your final budget. It's crucial to ask for their invitation confirmation at least a week before the event so you don't run into issues such as shortage of food or party supplies.
Whatever reasons you have for hosting a BBQ party, we're completely confident that our guide covers all the topics needed for the planning and venue preparation. The only thing you need to do is to follow the tips we provided and start preparing for the gathering as early as possible.